Ethics Policies and Your Business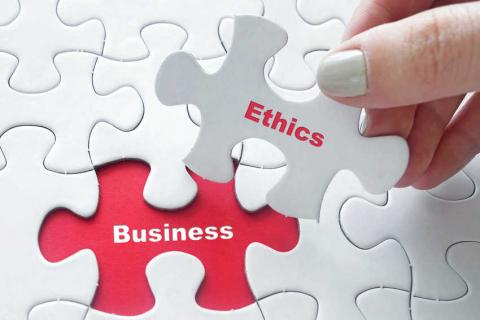 Business owners generally don't set out to go about things in the wrong way. They want to be straight forward, they want to create solid customer or client relations and they want to turn a profit. This is simply an accepted fact; most business owners don't start a business with the intention of providing less than ideal services or goods, or to make customers question their intentions.
But, just like real life, sometimes, questionable situations arise, especially in the business arena. This is why, just like in "real life", it's important to operate under a code of ethics, to provide transparency to customers, business partners and others, and to keep your business moving forward smoothly.
It makes sense, ethics and morals guide us. I'd argue that most of us have certain truths or actions that we consider to be more important than others. They help us do what we do well, and help us interact with the rest of the world. This should be true of business. In fact, for a business to grow and to become successful, it needs to be trusted; this is where ethics come into play.
What are Business Ethics?
The term "business ethics" refers to moral principles and standards that a business holds itself to, that all decisions are based on. They're a foundation to grow on that could vary from one business to another.
These guidelines are put in place to determine what a business considers "right" and what it considers "wrong." The idea is that a clear code of ethics allows all employees and partners to work together, to make appropriate decisions and to operate with the same values, goals and priorities.
Considering putting together a code of ethics? A few things to consider include:
Why Your Ethics Matter
If your employees understand the principles upon which they are to base their actions and decisions, your company is more likely to operate in the way you envisioned it when you started.
Ethics are also an "umbrella" of sorts. They ensure that each and every person you interact with is treated in a manner that you deem appropriate. A potential client may decide whether or not your business would be a good match for their needs based upon whether your code of ethics matches his or her own code. This means, quite simply, that they matter greatly.
Consider Your Priorities
To create your business's code of ethics, start by thinking about your priorities. What is your mission statement? Your vision statement? Where do you see your business going in the next 5, 10 or 20 years?
At the same time, review your office policies. Do your rules of conduct match your code of ethics? A few considerations may be:
Your view of social responsibility. How do you expect your employees, contractors and other partners to behave?
Goals. Again, where do you see yourself going? What will help you get there?
Rules and guidelines. If a questionable situation were to arise, how would you expect your employees to respond?
Put it on Paper
Start sketching out your new code of ethics. Think about boundaries and values that you think matter. What will you look for in future employees? What behaviors matter? What behaviors are unacceptable?
Think about valued traits like honesty, integrity, transparency, then write out what those terms mean to you. It's great to say you want to be a trusted business, but, what does "trusted" mean to you? How will you accomplish it? Remember, your code will be what your office culture is based upon going forward. Be specific and detailed.
Talk with Your Employees
Once you've gotten your ethics together, you're off to a great start. If you don't have a team of employees in place yet, that's fine. You know what you're looking for going forward.
If you do have a team of employees, get them on board. Share your vision and what you're hoping to accomplish. Gather ideas and feedback and keep them informed during the process.
Implement Your Code
Once you've created a code of ethics, it's time to put it into practice.
Send copies out to all employees, or update your existing employee handbook. Have each employee read, review and sign an acknowledgement that they've done so. Store these forms personally or within your HR department, if relevant to your business.
Create a way for employees to ask questions, to report violations and to handle transgressions within the workplace. In many cases, this step requires the advice of a business attorney, to make sure decisions are handled according to the law.
Working with an experienced business attorney, like Michael Hynum of Hynum Law to create your code of ethics, or to update your employee handbook, could help smooth the process while ensuring that your handbook will stand up to the law.
Have questions? Ready to get started? Contact Hynum Law today. We look forward to setting up a consultation, addressing your business needs and working together in the best interest of your business.