Business Closing? Have You Notified Creditors?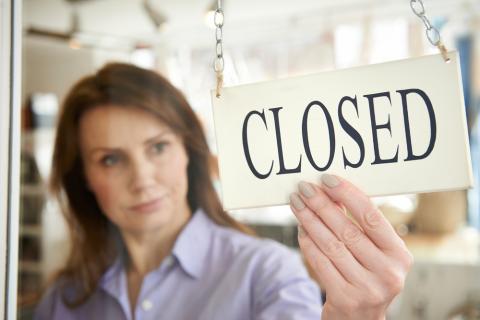 If you're closing your doors, you know there are many steps that must be taken to ensure each "t" is crossed and each "i" is dotted. But, one commonly overlooked step could be critical to your own financial future: notifying creditors.
Why it Matters
As a business owner, you've likely worked with a variety of individuals and companies – customers, banks, insurers, and more – that have kept you up and running. It's important to let them know when something big is happening, especially if that "something big" is a business closure.
In some cases, letting creditors know that you're going out of business is required by a contract or the law, in others it's simply good business. Things that determine when and how you notify that creditor include:
Whether anything is owed to the creditor.
If you have property that belongs to the creditor.
Whether any services will be discontinuing or continuing.
A few examples of those that may require notifications are listed below, along with important steps and considerations.
Supplier Notifications
You likely work with suppliers. Whether they supply inventory or business supplies and tools, they'll need to be informed when the last shipment is required. Other important details could include what will be done with remaining goods, when the last payment will take place and so forth.
A simple, certified letter outlining these details should be sufficient.
Lender Notifications
Many businesses operate with loans or lines of credit from banks. If your business is closing, your bank will want to collect payment or to know how you'll pay the remaining balance. Details are dependent upon your loan agreement, however, in many cases, your bank may be able to deduct what is owed from your business bank account (called a "right to setoff").
Take the time to examine your loan agreement, and to take care of all taxes and debts accordingly.
Secured Creditor Notifications
In certain situations, debts are secured by collateral – either owned by your business or you, personally. It's important that you notify your creditor, and that you ask questions about how the debt will be settled, especially if the collateral was purchased with the loan. In some cases, it may be best to sell the property, in others voluntary surrender may be most efficient. It's best to discuss options with your creditor in these situations.
Insurance Carrier Notifications
Businesses are generally required to carry liability insurance. However, the terms of these policies vary significantly. In some cases, a policy may cover past acts, even once the policy has been terminated, however, in others, you may need to keep your insurance active, even once your doors are closed.
If you're concerned about legal threats, it's important to let your insurance company know immediately to be sure you move forward in the most appropriate manner. If you are able to close your insurance policy, a certified letter containing a receipt request is generally the most accepted method.
Service Provider Notifications
You likely have a variety of utility and other service providers that will need to know that your business is closing. If any long-term contracts are in effect, give the appropriate amount of notice to avoid early termination fees, however, in most cases, a few days is sufficient.
Remaining Debts? Negotiate with Creditors
If you receive final invoices from creditors after you've sold off all of your inventory and other assets, and after you've collected on all accounts receivable, you may need to negotiate with your creditors.
Proper negotiations protect your financial future while your creditors receive what they need to move forward. The process can contain many variables, so working with an experienced business law attorney is generally an excellent option.
Working with a business law attorney who works to protect you individually, and as a business owner, is important during a business closure, not just during negotiations. Take the time to do your research and to find the firm that fits your needs and provides the guidance you need to move forward.
Unsure of where to start? Call Hynum Law in Harrisburg, Pennsylvania and set up a consultation with an experienced attorney who's able to answer your questions while putting a plan in place for moving forward.
Contact us today; we look forward to working with you.